LE MOULIN GENTREY
1200 Le Moulin Gentrey Harsault 88240 La Vôge-les-Bains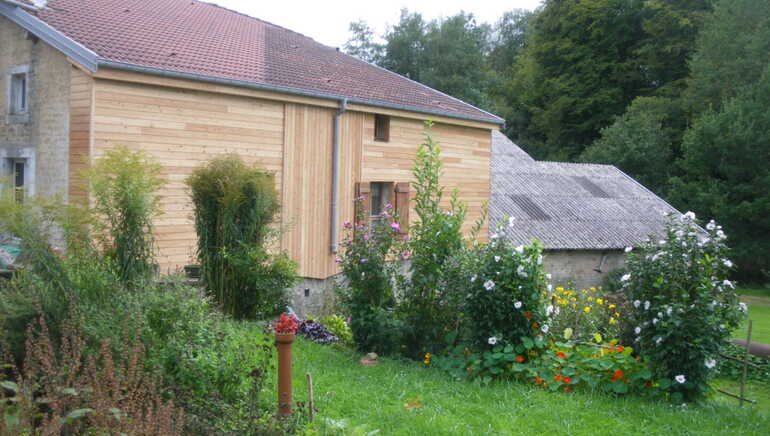 1200 Le Moulin Gentrey Harsault 88240 La Vôge-les-Bains
Experience the amazing history of this old 19th century starch factory, a survivor of the Vosges heritage. Our association of enthusiasts will take you on the "Potato to Starch Trail", to discover a forgotten work which was nevertheless practiced in more than 300 starch factories in the Vosges!
For ten years, the volunteers of the association "Les Kémottes" have been working to restore the potato transformation process and to revive the history of the workers. An initiative made possible thanks to the memories sprinkled with tasty anecdotes passed on by the "elders" of the starch factory
The visit begins along the canal that guided the water from the Vôge to the mill's large wheel. This wheel produced the energy necessary for the functioning of the different machines of the starch factory. Then, we follow the path of the potato, from the cellar where it is stored, to the bagging of the starch obtained after the extraction process.
Immerse yourself in the daily life of the workers: sorting, washing, grating, filtering, decanting, drying... until a beautiful powder is obtained, fine and silky white, destined for textile factories, paper mills, glucose factories... Sail between the skilful installations, from the workshop to the floor where the starch was dried and sieved. A journey through time that will teach you a lot about the working conditions, the tools and the tasks of the workers of the starch factory

GUIDED TOUR
- Every 1st and 3rd Friday of the month from mid-March to November, visit with snack
- Every Friday from June to the end of September at 2:30 pm, simple visit
- Every Sunday from June to the end of September at 3pm, simple visit
Other dates on reservation for groups: possibility of meal or snack
Room rentals, events, conferences, exhibitions..
Contact par
mail
* Required fields
Report a problem with this establishment
* Required fields