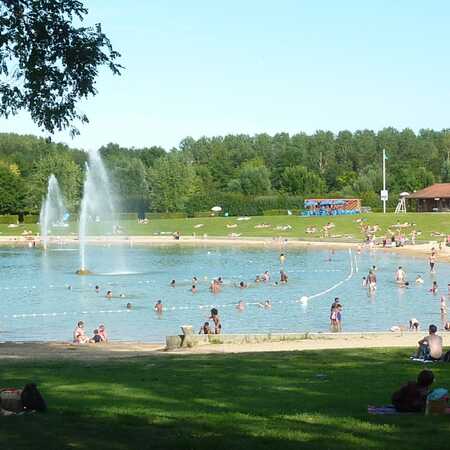 La plage de la base de loisirs de Cormoranche-sur-Saône © Base de loisirs
Base de loisir de Cormoranche-su-Saône © Guillaume Robert Famy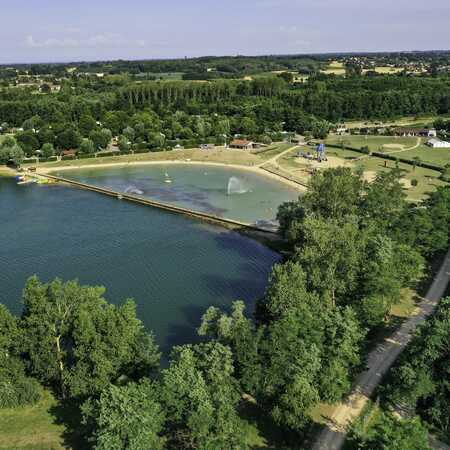 La Voie Bleue et la base de loisir de Cormoranche-sur-Saône © Guillaume Robert Famy
south
Cormoranche-sur-Saône Outdoor Activities Centre
An invitation to relax or mess about in the water
Located beside the Saône, some 8km south of Mâcon, and lying right beside La Voie Bleue cycle route, Cormoranche Outdoor Activities Centre offers you the possibility of taking a break to relax or to go swimming along your route. The Centre stands in a green setting covering 42 hectares.
If you simply wish to take a quick break, there's a bar and restaurant on the spot. If you wish to stay the day, young and old alike can relax or make the most of the many activities on offer in and around the lake: swimming, with lifeguards on duty, angling, picnicking, using the aquapark… (There is an entrance fee.)
If you decide on an overnight stop, try the 4* campsite, which offers you the choice of hiring a bivouac tent,  a chalet, or a 'nest' (a hut with rooms and terrace perched up high)... Heading out from the Centre, it's easy to explore the surrounding area, reputed for its tourist attractions, including the Grand Site de France de Solutré, the grounds at the Château de Pont-de-Veyle, Cluny Abbey, Touroparc (a zoo) and more. Consult the Centre's website for further information and to reserve accommodation at the campsite.