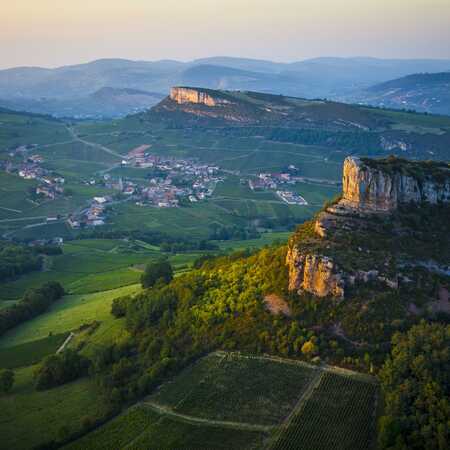 Solutré Pouilly Vergisson © A.Ibanez Bourgogne Live Prod / DSL71
south
Solutré-Pouilly-Vergisson
Designated a "Grand Site de France"
Its remarkable, grandiose appearance makes it unique in Burgundy, but the Grand Site de France Solutré Pouilly Vergisson is also a major archaeological site of significance in European culture, notably because of the sustained presence of our prehistoric ancestors here. This is also a place rich in diverse natural environments, protected at national and international levels (notably for its calcareous grasslands). Dominated by the famed Roche de Solutré, a great rocky outcrop rising high above the surrounding vineyards that produce highly reputed wines, the site, although it only covers a small area, has an exceptional, unique character. It has attracted humankind for over 57,000 years.
La Maison du Grand Site, a well-thought-out interpretation centre, helps visitors understand the site's many aspects – prehistory, history, geology, landscapes, viticulture, the environment and more.
The outstanding manner in which this site has been managed, preserved and explained earned it its prestigious designation as a Grand Site de France in 2013. It lies some 12km from Mâcon, roughly one hour from that town by bike.