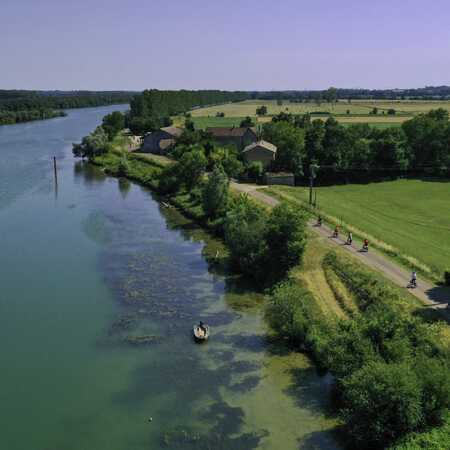 Sur La Voie Bleue en Saône-et-Loire © Guillaume Robert Famy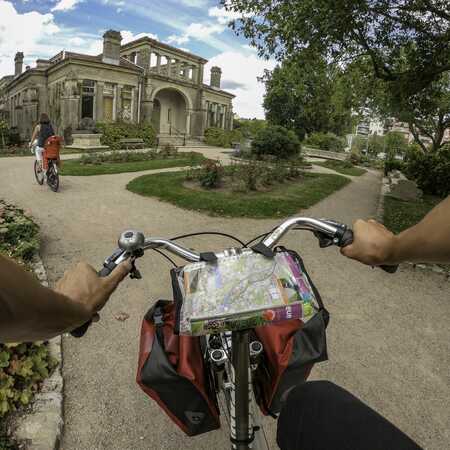 Sur La Voie Bleue dans les Vosges à Epinal © Guillaume Robert Famy
south
Introducing La Voie Bleue
700km of cycle route following waterways from Luxembourg to Lyon.
A journey for cyclists who truly appreciate discoveries, delicious treats and a delightful pace of life, together with uplifting encounters.
La Voie Bleue – Moselle-Saône à Vélo is a French national cycle route stretching from the town of Apach, on the French border with Luxembourg, down to Lyon. Crossing France north to south, this route forms a major link between Northern Europe and the Mediterranean. The way first meanders gently beside the Moselle, then follows the Canal des Vosges before running beside the Saône to Lyon, the great city at the confluence of Saône and Rhône. From Lyon, ViaRhôna (also known as EuroVelo 17) leads you right down to the Mediterranean.
Thanks to just small shifts in altitude and cycle paths well laid out along the majority of the way, La Voie Bleue is an ideal route for families, or for those embarking on their first cycling journey. For more seasoned cyclists, there's no doubt that this 700km route, plus the many interconnections with further cycle routes it offers, can provide you with an unforgettable trip.